An exciting peated expression from the world's favourite blended Whisky. Island Green will definitely be on your Christmas list this year.
The Legend of Johnnie Walker
Everyone knows Johnnie Walker. They are a staple in every bar and restaurant around the world. They may not be your favourite malt, but they certainly are the globe's. And with Johnnie Walker Island Green they set for a full take over.
They are one of the best Scotch Whisky brands around today and are owned by Diageo.
With Island Green, they have released a unique Whisky that will be loved by peat heads everywhere. It was first introduced as a travel retail exclusive in July 2018.
The blend is crafted from malt from Caol Ila, also owned by Diageo and based on the isle of Islay, so you know it packs a peated punch.
Doug Bagley, who is the Managing Director of Diageo GTME said, "The launch of Johnnie Walker Island Green is a true game-changer for the Scotch whisky category in travel retail."

He expanded by discussing how Island Green will introduce more variety to the market, saying, "Malts is the fastest growing category in travel retail, growing at twice the rate of the overall Scotch category, but the scale of variants, ages and flavours can be overwhelming to shoppers."
The Johnnie Walker Island Green Blended Scotch Whisky
The Johnnie Walker Island Green Blended Scotch whisky itself is fantastic. Flavour fills every drop and the peat smoke is rich and earthy.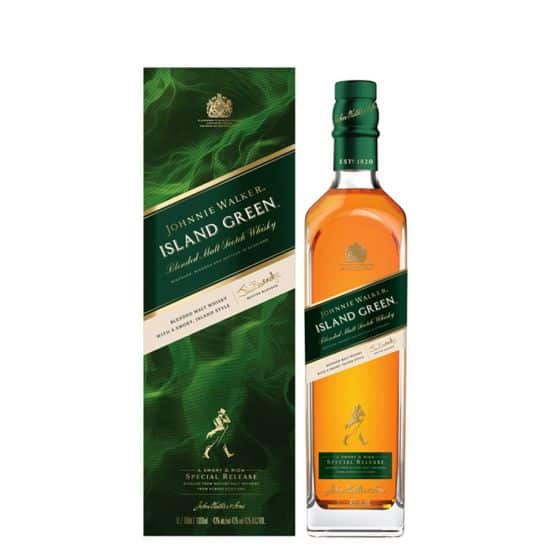 Tasting notes for Johnnie Walker Island Green Blended Scotch Whisky
Bottle cost: £58.29
The nose begins with sweet caramel and vanilla. It has a slightly bitter coffee and dark chocolate note.
There is a brilliant earthiness to it as well, almost like dew covered grass and damp wood. It adds a richness and depth to the flavour.
The palate opens with a big note of peat smoke and oak wood, with more dark chocolate and some dried fruits.
Sea salt and brine are also there, with a drizzle of caramel and toffee. The sweeter notes really give it a lovely backdrop and go especially well with the sea theme.
The smoke lingers throughout and the fruits melt into it. thy lend a chewy texture that goes well with the creaminess of the caramel.
The finish is long and gentle, with more smoke and oak wood.
Johnnie Walker Island Green Blended Scotch whisky is a brilliant addition to not only the Johnnie Walker family, but to the Whisky market as a whole. It is brimming with flavour and is a well rounded blend.
What are your thoughts? Leave a comment below and let's have a chat!