Hailing from the Clynelish Distillery in the Highlands of Scotland, this dram has been bottled by Gordon & MacPhail for their Connoisseurs Choice series.
Clynelish Distillery was first founded in 1819 and has grown to encompass two distilleries, having swallowed the Brora Distillery that was built across the river from it and closed in 1983. Today it is owned by Diageo and is well loved amongst Whisky enthusiasts.
This particular expression has been produced by Gordon & MacPhail, an independent bottling company that has been around since 1895. They have created some really brilliant malts, including some of the oldest drams to ever be bottled, such as the Mortlach 70 Year Old and The Glenlivet 70 Year Old.
THE GORDON & MACPHAIL CLYNELISH 2005 SINGLE MALT SCOTCH WHISKY
Released as part of the Connoisseurs Choice re-launch in 2018, celebrating 50 years since the range was first introduced, this is an exciting expression.
The Connoisseurs Choice range promises to bring unique and one-off Whiskies to consumers, and that's exactly what they do with this malt.
Limited to only 518 bottles, this is an excellent dram that is packed with flavour. It has been matured for 12 years in a refill Sherry cask.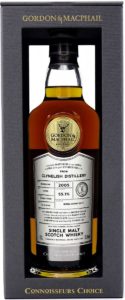 Tasting notes for the Gordon & MacPhail Clynelish 2005
The nose opens with wonderful seaside notes and lots of sherry soaked fruits. raisins, apricots and dried bananas are present, with a lovely sherry spice. The spices are warming and go well with the sweeter, dessert flavours that appear. Chocolate and burnt brown sugar tie in well here.
The palate brings in bolder notes of smoke and sea salt. Citrus fruits also abound here, with a lovely orange zest coming out. This goes especially well with the brown sugar and chocolate flavours of the nose, as well as the warming cinnamon and nutmeg notes.
The oak of the casks is also there, with a little hint of caramel and malted grains. Again, this go perfectly with the spicy flavours and the sweeter, zesty fruits,
The finish is long and lingering, with lots of cinnamon heat and a lovely orange and chocolate note to end.
This is a well rounded and full bodied dram with a lot of flavour. Whether you're a connoisseur or not, this is well worth investing in.
What are your thoughts? Leave a comment below and let's have a chat!