Released as part of the Glenfiddich Distillery's Grand series, Gran Cortes XXII is a luxurious sherry matured malt bursting with flavour.
Gran Cortes XXII is the follow up to Glenfiddich's Grand Cru, a 23 Year Old malt finished in cuvée casks. This new addition is a wonderfully sherried malt that perfectly complements the Glenfiddich Speyside flavor profile.
The name of this expression means grand palaces, in celebration of Spanish royal courts, since it has been matured in specially selected Andalucian Palo Cortado sherry casks. It is exclusively available to customers in China and Taiwan.
Brian Kinsman, who is Malt Master at Glenfiddich Distillery and selected the casks himself, says, "We researched age-old processes, testing finishing times and maturations to find the perfect composition of character, depth and aroma. After careful experimentation, we found our match.
"The 22-year-old Glenfiddich malts from our old-age collection were finished in Palo Cortado oak casks. The alchemy that takes place in the oak casks pushes the boundaries once again. The finished product is a truly unique whisky with a dark red hue and distinctive character. It's an unforgettable spirit to mark the most special occasions."
Tasting notes for Glenfiddich Gran Cortes XXII Single Malt Scotch Speyside Whisky
The nose begins with notes of warming sherry spices and dried fruit. There is a lovely sweetness to it, with caramel and vanilla coming through. Sweet nuts and notes of citrus fruits.
The palate is full of oak wood and more sweet notes of vanilla. Sherry comes through really well and has an almost Christmas cake like flavour. There is a hint of char and lots of dried fruit. Almonds and oranges give it a lovely richness.
The finish is sweet and warming, with lots of sherry and oak.
This is a wonderful addition to the Grand Series that really explores the Speyside flavour profile with big notes of sherry. It will be a treat to see what comes next!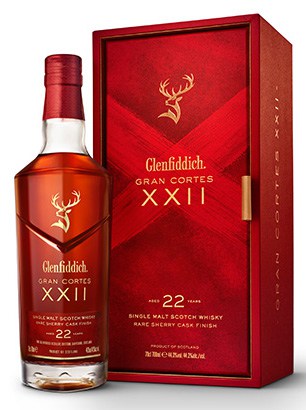 Are you a fan of the Glenfiddich Gran Cortes XXII Single Malt Speyside Scotch Whisky? What are your thoughts on the Grand Series? Let us know your thoughts in the comments!