An exciting new range of Diageo's Special Releases that includes some extraordinary malt as well as some interesting art from digital illustrator Ken Taylor.
Another installment of Diageo's Special Releases range, which comes out annually, this series includes a lot of brilliant whiskies as well as some incredible art from Ken Taylor.
This year's series is called Legends Untold and the artwork on each bottle is worth collecting itself. Not only are the labels exquisitely designed, but each comes with a QR code that, when scanned, brings up a video of stories, narrated by actors Lorne MacFadyen and SIobhan Redmond. It really is quite a treat and each one if unique and as fascinating as the next.
Dr. Craig Wilson, Master Blender at Diageo said, "We have delved into the core characteristics of several classic distilleries, for the Legends Untold collection. Taking inspiration from the mythical creatures of this year's collection, we have revealed new depths of flavour and embraced the essence of each whisky's unique profile revealing the legend it brings to life. This year's collection is just the very beginning of the story."
The collection includes malts from Mortlach, Talisker, Lagavulin, Cardhu, Royal Lochnagar, Oban and The Singleton of Glendullan. We're going to take a look at Oban, Talisker, Lagavulin, Mortlach and Royal Lochnagar.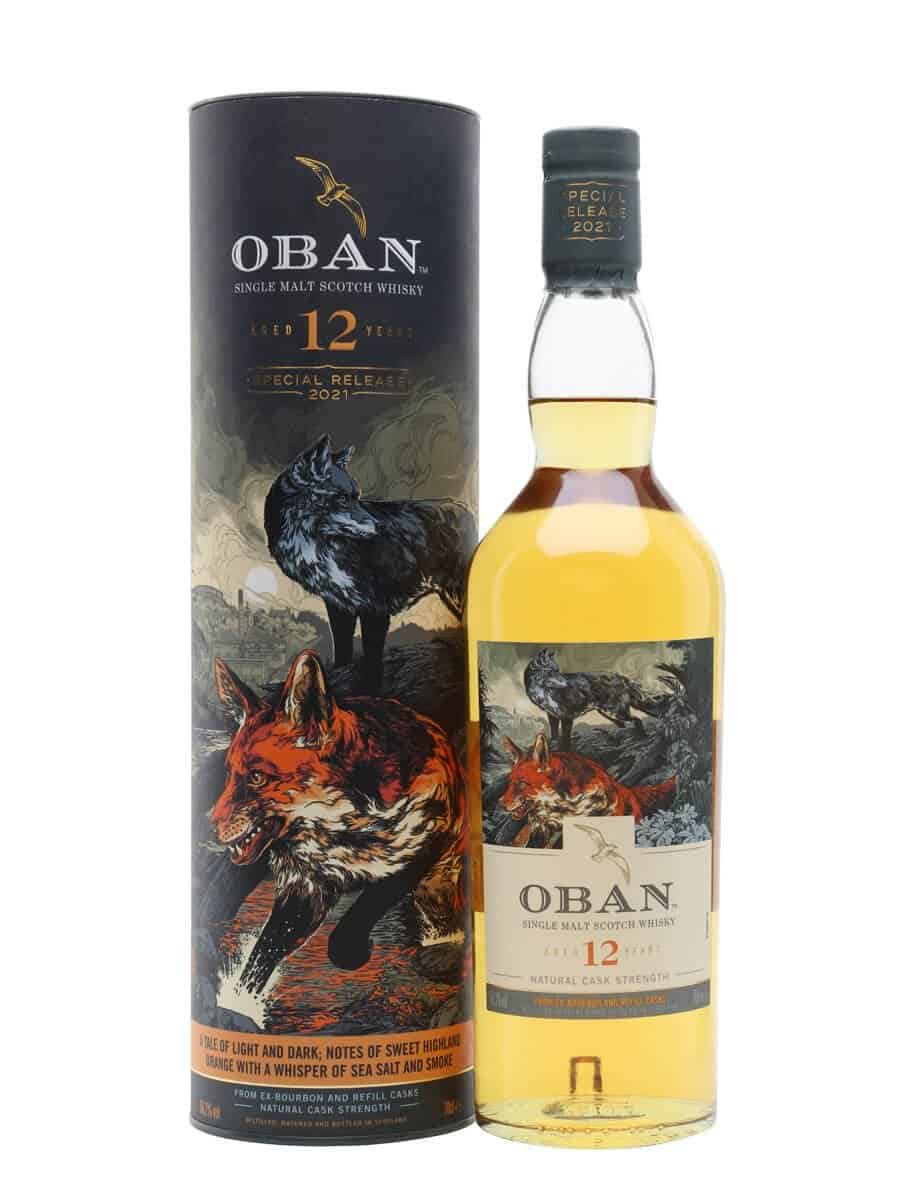 TASTING NOTES FOR OBAN 12 YEAR OLD SPEYSIDE SINGLE MALT SCOTCH WHISKY
Bottle cost: £105.00
Matured in American oak casks that have been recharred as well as ex-Bourbon casks.
The nose is brimming with orchard notes and cinder toffee sweetness. It is mouthwateringly inviting. Citrus fruits round off alongside oak wood and caramel.
The palate is sweet and full of butterscotch, apples and pears. Oak wood and cinnamon come through with a lovely heat. Clementines and more citrus notes give it a lovely warming feel. Caramel with slightly salty hints also appear.
The finish is smooth and mellow with lots of caramel and cinnamon spice.
Tasting notes for Talisker 8 Year Old Islay Single Malt Scotch Whisky
Bottle cost: £70.83
This Talisker 8 Year Old has been matured in peated refill casks.
The nose begins with some lovely peated notes and a wonderful hint of orchard fruit Sea air and brine also appears.
The palate has lots more peat smoke, which combines well with the seaside flavours. Herbal notes of heather and moss come through, with sweet caramel and chocolate as well. It is very smooth and has a wonderful star of anise spice throughout.
The finish is bold and full of sea salt, brine and peat smoke.
Tasting notes for Lagavulin 26 Year Old Islay Single Malt Scotch Whisky
This is one of the most impressive malts in the Special Releases series and has been matured in first fill Oloroso and Pedro Ximenez sherry casks.
The nose is spicy and sweet, with lots of sherry notes. Fruit flavours waft through, with big notes of raisins, apples and citrus notes.
The palate is warming and smooth with big notes of peat smoke and seaside flavours. Exotic fruits add a lovely zest to the peat. Cinnamon and nutmeg bring in a bit of warmth alongside chewy dried fruits.
The finish is full of peat and fruit and lingers on spice.
Tasting notes for Mortlach 13 Year Old Speyside Single Malt Scotch Whisky
Bottle cost: £135.00
Matured in sherry and virgin oak casks.
The nose brims with malted grains, caramel and sweet nuts. There is a hint of marzipan and candy floss with a lovely floral note throughout.
The palate brings in notes of vanilla, oak wood and more caramel. Dried fruits, oat biscuits and more malted grains appear. There is a hint of dark chocolate and citrus fruits. Orchard fruits give it a slightly refreshing feel.
The finish is full of oak wood, vanilla and apples.
Tasting notes for Royal Lochnagar 16 Year Old Speyside Single Malt Scotch Whisky
Bottle cost: £199.00
This Royal Lochnagar has been matured with both sherry and bourbon casks.
The nose begins with big notes of orchard fruits, fresh cut grass and lots of florals. It is very aromatic and has white fruits and blossom alongside white sugar and oak wood.
The palate is rich and elegant, with notes of dried fruits, sherry spice and apples. Sweet nuts, oak wood and delicate florals appear. Vanilla cake with frosting adds a lovely sweetness. The oak is full of vanilla notes and recalls the orchard flavours in the nose.
The finish is mellow and sweet, with more floral hints and a lovely vanilla finish.
The Special Releases series is always looked forward to by Diageo fans. It spans such a wide variety of distilleries and flavour profiles that it has something for everyone while at the same time being high quality. This year's offerings are enhanced even more with the addition of beautiful artworks and the stories that go along with them.
Have you tried anything from the 2021 Diageo Special Releases line up yet? Let us know your thoughts in the comments!