Bunnahabhain Distillery has launched its third annual small-batch 12 Year Old cask strength release
Bottled at cask strength, the expression showcases the classic unpeated sherried house style that Bunnahabhain is infamous for.
A limited edition expression, it offers whisky lovers the chance to experience a taste of Bunnahabhain whisky in its purest form.
Bunnahabhain Distillery has revealed its third annual small-batch cask strength release: Bunnahabhain 12 Year Old Cask Strength 2023 Edition.
Matured on the remote, north-eastern coastline of Islay, and produced using natural spring water from the Margadale spring, the 2023 edition of 12-Year-Old Cask Strength is an undiluted celebration of the distillery's popular unpeated sherried house style, synonymous with the Islay based distillery.
Following on from the success of the 2021 and 2022 editions, this release is a nod to Bunnahabhain's 12 Year Old signature expression. It has been matured in a selection of first and second-fill oloroso sherry casks, before being balanced by a touch of bourbon with each cask being carefully selected by Master Blender, Julieann Fernandez.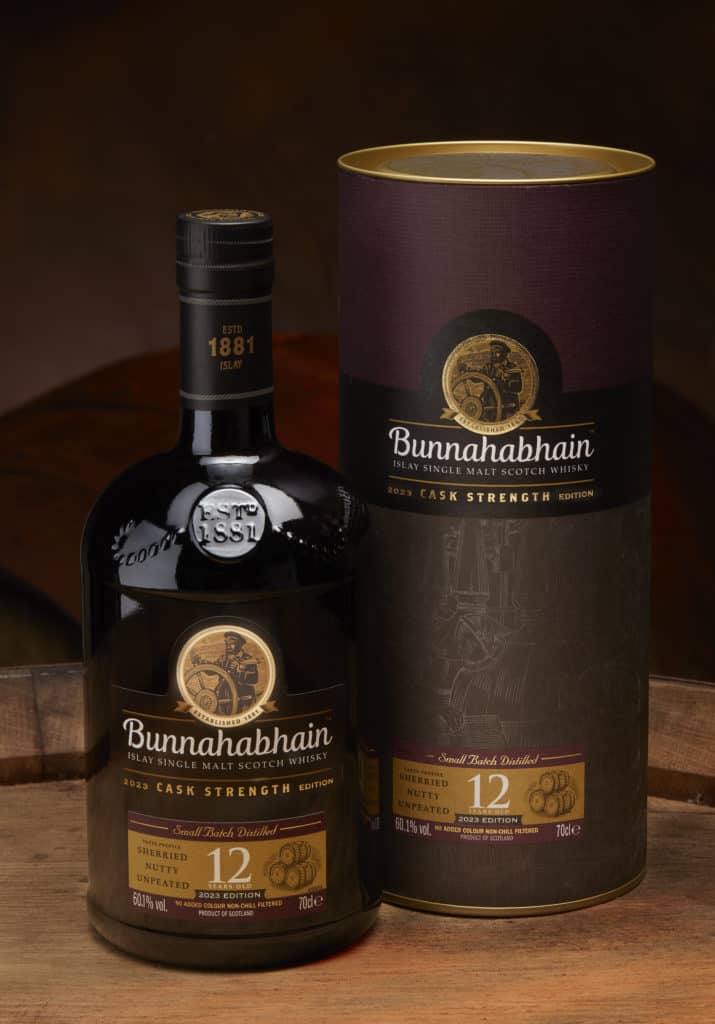 At cask strength, the intensity naturally varies from batch to batch. This year's release has an ABV of 60.1%, compared to 56.6% of 2022 and 55.1% of 2021. Retaining the beautiful flavours developed from the sherry casks during maturation, the 2023 release offers a fruitier dram than its predecessors, with notes of stone fruits and figs, followed by lingering hints of vanilla that complement the finish.
Commenting on the release, Julieann Fernandez said: "I'm really proud of this year's 12 Year Old Cask Strength release. Even bigger and even bolder than its predecessors, with an ABV of 60.1%, it epitomises everything that Bunnahabhain is known for: unpeated, sherried and full of intense flavour, offering big hits of roasted nuts and cinnamon spice in every dram.
"Bunnahabhain is a robust and complex spirit – unpeated and oily but with sweet notes of dried fruits and cereal, and it means that the spirit can really take on the big flavour profiles that come from the full maturation in the sherry casks.
"Our Bunnahabhain fans span all across the world and it means a lot to us that we can offer them that unforgettable experience of trying a dram straight from the cask – even if you aren't able to do it in person in our infamous Warehouse 9!"
Bunnahabhain's 12 Year Old Cask Strength 2023 expression is available to purchase at the distillery or bunnahabhain.com. Priced at £85, the expression is non-chill filtered, allowing whisky lovers to enjoy as nature intended.
For more information, visit https://bunnahabhain.com/