London's award-winning Bimber Distillery today announced the launch of "The Spirit of the Underground" - an ongoing collection of iconic single malt whiskies that celebrate the heritage and diversity of the distillery's home city. With striking individual designs, each bottle in the new collection features a different station on the London Underground network - the oldest underground passenger railway service in the world. The deal was brokered by TSBA Group, Transport for London's global licensing agency.
The launch expressions of The Spirit of the Underground Collection showcase four well-known Tube stations: Waterloo; Baker Street; Kings Cross St Pancras and Oxford Circus. Each release features stunning iconography presenting a unique piece of London's history, and comes adorned with an eye-catching label and packaging design that observes the significance of each station's location. 
The four initial releases of the collection have been selected from the distillery's finest ex-bourbon casks and are offered at full cask strength and without chill filtration. Each reveals a highly individual, but perfectly balanced merger of aroma and flavour that reflects the passion and craft of Bimber.
The cask selected for the Baker Street expression was chosen by the members of the 2020 Bimber Klub Tasting Panel – the distillery's rapidly growing membership community.
Speaking of the launch, Bimber spokesperson Matt McKay said: "We're delighted to unveil this exciting new partnership and the first expressions of The Spirit of the Underground Collection. As we approach the fifth anniversary of our spirit, this collaboration with Transport for London celebrates both one of the great engineering projects of the past 200 years and the ongoing development of our spirit. Bimber is very much a product of London and we're thrilled to showcase our single malt whisky in this most incredible way."
With 270 stations on the network to select from, The Spirit of the Underground Collection is intended to grow alongside Bimber. New expressions will be added in batches (four single casks at a time) populating each of the Underground's 11 lines and reflecting the vibrancy and multiplicity of the stations and locations throughout the capital city. 
Julie Dixon, Head of Customer Information Design and Partnerships at Transport for London said: "This imaginative collaboration really shows off the visual splendour of our historic and instantly recognisable Underground network. It's been great to work with a London-based distillery to create this collection and we hope fans of whisky will enjoy this collection as it grows."
Release 1 of The Spirit of the Underground Collection will be available later this month with an RRP of £125 per bottle. Release 2, which will feature four more iconic London Underground stations, is scheduled to be unveiled over the coming months.
All the expressions in The Spirit of the Underground Collection were crafted to Bimber's exacting standards. The spirit was produced from the distillery's single farm barley and malted on a dedicated floor at Warminster Maltings before being fermented for seven days in bespoke, on-site constructed American oak washbacks. Distillation took place in Bimber's customised stills which possess an increased copper surface area, which results in a rich fruit-forward, layered spirit.  
The Spirit of the Underground Collection – Release 1
THE SPIRIT OF THE UNDERGROUND – WATERLOO
American Oak Ex-bourbon Cask – Ref 99 
Nose: Bright, succulent pineapple juice supported by nougat, bourbon biscuits delectable toffee. Gentle char sits alongside split vanilla pods and lithe minerality. 
Palate: A syrupy body packed full of tropical fruitiness, citrus sugar and freshly squeeze orange juice. Chocolate covered biscuits and burnt toffee provide a succulent core. 
Finish: Earthy nutmeg and powdered ginger with fading fruitiness. 
257 bottles 
70cl 
58.3% ABV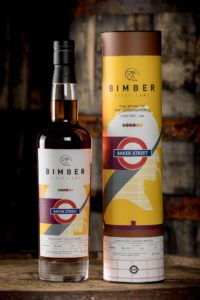 The Spirit of the Underground – Baker Street
American Oak Ex-bourbon Cask – Ref 126 
Selected by the Bimber Klub 2020 Tasting Panel  
(Tasting note produced by panel members) 
Nose: Rich pineapple, minty apples, a bag of wine gums and dolly mixture sweets. Caramel sauce, Turkish delight with pistachios on top.  Trail mix, cocoa nibs, ginger powder and a handful of nuts. So fresh, and unbelievably interesting! 
Palate: A good old banoffee pie topped with a hint of cinnamon. Blueberries, blackberries, probably all sorts of berries! Citrus fruit teas and spicy dark chocolate, vanilla, toffee and a touch of menthol. Well sanded/oily oak with honey cake completing the taste. 
Finish: Lingers very long and warm in the mouth. Berries and plum jam with liquorice, aniseed, loads of chocolate and cinnamon oak. 
264 bottles 
70cl 
58.1% ABV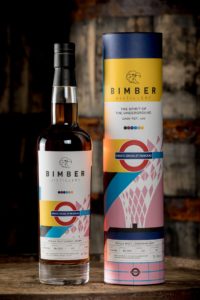 The Spirit of the Underground – Kings Cross St. Pancras
American Oak Ex-bourbon Cask – Ref 129 
Nose: Charred peaches, freshly sliced red apples and a side of pineapple cream is joined by luscious toffee and aromatic, charred, floral oakiness. 
Palate: A silky arrival offering ripe apricots, pineapple cubes and whipped cream. Chocolate mousse and evolving pepperiness develop alongside toffee, vanilla and baking spices. 
Finish: Exceptionally long with piquant spicing and metholated oak. 
259 bottles 
70cl 
58.5% ABV 
The Spirit of the Underground – Oxford Circus
American Oak Ex-bourbon Cask – Ref 172 
Nose: Expressive charred pineapple chunks and crunchy toffee-covered apples sit with shortbread, rolled pastry, condensed milk and wonderfully creamy caffé latte. 
Palate: Full bodied and with immediate impactful flavour. Dried mango slices, lemon and ginger jelly and toffee-filled bon bons are livened by piquant wood spices. 
Finish: Sustained sweet and sour tropical fruitiness alongside dusty nutmeg. 
261 bottles 
70cl 
58.8% ABV