We've gathered a list of some of the best whiskies under £50, so you know what to look for when you want a quality dram for a price that won't get you in trouble with the missus.
1. Compass Box Spice Tree
Bottle cost: £47.95
This Highland blend is wonderfully crafted and was crowned Best Blended Malt Scotch at the San Francisco World Spirits Competition in 2015. It is an ideal candidate for best whiskies under £50. It is packed with flavour, opening with lots of spice and vanilla.
The palate has a distinctly ginger note to it, which ties in well with the oak wood. It is refined and sophisticated with lots of boldness to it and a lovely finish that is full of warming nutmeg and all spice.
Bottle cost: £38.95
This is a hearty seaside dram that will whisk you away to the coast and warm you with whiffs of peat smoke when you get there. It has a nose full of iodine and brine, with a little hint of sea salt and swaths of smoke.
The peat comes through so eloquently on the palate and bolsters the medicinal notes that make Laphroaig so popular. There is a delicate sweetness underneath all these big flavours that adds an extra depth and quality to the dram.
Bottle cost: £21.75
Glenmorangie is a well-known Speyside malt that is simple but elegant. The Original was brought in to replace their 10 Year Old as part of the core rnage and does not disappoint. It is a typical Speysider, with lots of fruit and sweet ntoes from the beginning. It has oranges, apples, banana, grapes and alovely smothering of honey covering it all.
The body is smooth and creamy, bringing everything together in harmony. To finish, it has a little hint of cinnamon spice, to give everything a final warming kick. Undeniably one of the best whiskies under £50.
Bottle cost: £36
This dram is part of The Macallan recent 1824 series that celebrates the opening of the distillery. They have removed the age statement in the hope that the colour of the dram will indicate its quality instead. The Gold expression has been widely acclaimed since its release and is a wonderful example of some of the best malt you can get for brilliant prices.
This dram is full of citrus and sweet notes. It opens with oranges and lemon zest, bringing in lots of vanilla and oak wood that really make themselves known on the palate. The finish is sweet and honeyed, showcasing the quality of the malt throughout.
5. AberlourA'bunadh Batch 58
This is a wonderfully sherried dram, with lots of spices and fruit flavours. It is like Christmas cake in liquid form. So who wouldn't agree that it is one of the best whiskies under £50? The nose is rich with dried fruits and cinnamon spices. These mix and mingle well.
The palate really gives them life, with a smooth mouth feel to really bring it all together. There is a lovely dark chocolate flavour that add a richness and refinement here as well. The finish is especially Christmassy, with bog cinnamon notes and a wonderfully moist cake, packed with dried fruits and nuts, coming through.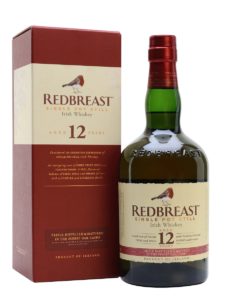 Bottle cost: £44.95
This Irish single pot still Whisky is excellently crafted and will have you swapping out your favourite Scotches for their cousins across the pond. This dram has won numerous awards and certainly does not disappoint. It has a nose full of nuts and fruit, with lots of hazelnuts, pecans and raisins.
These explode on the palate, where the fruits really start to take over. Oranges, apples and bananas make an appearance, all dusted with a deliciously warming cinnamon sugar. The spices are warming and leave a nice tingle at the end of the finish.
7. Nikka Whisky From the Barrel
Bottle cost: £38.95
Nikka are well renowned for being one of the highest quality Whisky makers in the world, and their From the Barrel expression certainly lives up to that reputation, especially considering the low price tag. This is a typical Japnaese dram, with a light body and lots of floral notes.
The nose is delicate but overflowing with flavour. There is lots of oak wood and vanilla, with cherry blossom and flowers in the background. The vanilla becomes more like caramel on the palate and has a lovely hint of ginger in it. The oak adds depth and refinement here as well. The finish is wrapped up wonderfully, with lots of oak and warming spices.
8. Four Roses Small Batch
Bottle cost: £31.75
Four Roses is some of the best Bourbon available, and their Small Batch release is a true triumph in distilling. It has won several awards and is an example of how truly great Bourbon can be. From the beginning it is smooth and sweet, with rich vanilla oak coming through.
The palate builds on this and adds real depth to the dram, with more earthy tones appearing. There is a lovely cinnamon and nutmeg warmth that complements the honeyed vanilla notes. The finish rounds everything off perfectly, with a last dash of cinnamon and a little hint of citrus peel.
What are your thoughts? Leave a comment below and let's have a chat!