Thinking of making a pilgrimage to the hallowed island of malts, Islay? Then make sure you think long and hard about where your Islay accommodation, the island is bigger than you think. You're likely looking for somewhere with a great bar, great service, run by great people and in a great setting. GreatDrams recommends the Ballygrant Inn, the quintessentially Islay guesthouse that satisfies all of the above.
My fiancé, Kirst, researched tirelessly before deciding to book into the Ballygrant Inn.
Many people suggest staying in Port Ellen as you have three distilleries nearby but, as we found, you would still be a £20 cab ride from the capital of Islay, Bowmore and it's restaurants. Many of the people I know who travel to Islay as part of their job, mostly in some form of brand function for various whisky brands, stay on site at distilleries or nearby but we were after something a bit more authentic, a bit more remote, a bit more Islay.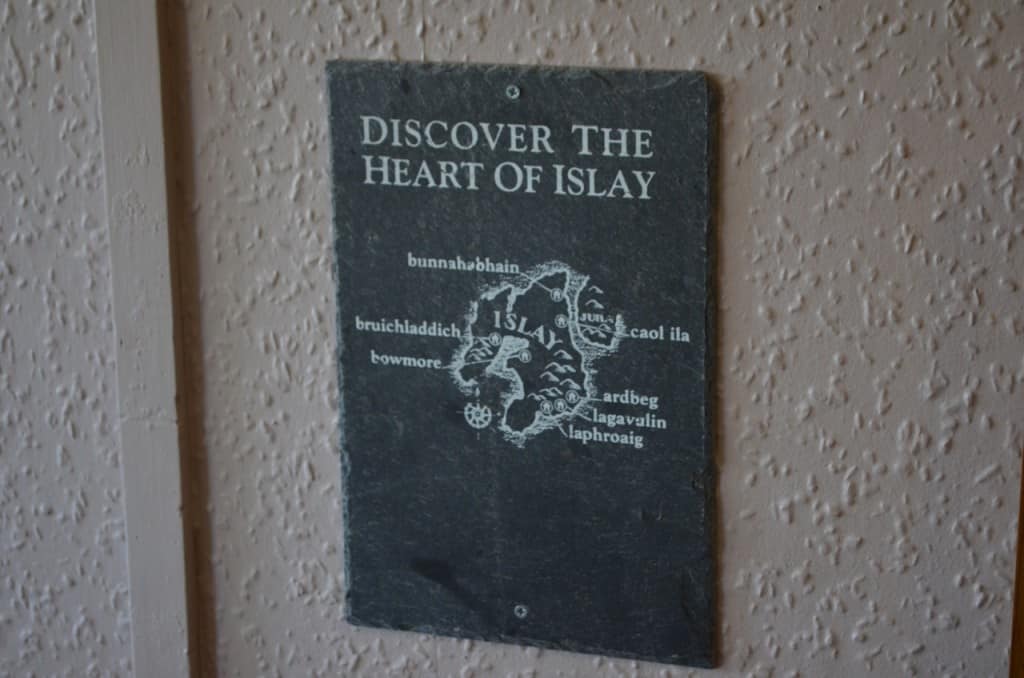 Kirst chose the Ballygrant Inn as it has a lovely father & son story behind it, they've run the place for a quarter of a century now.
Long before you arrive, or even book, owner David is happy to help you with absolutely anything to make your Islay visit as enjoyable as can be. From booking taxis to get us from the ferry to the guesthouse to being at hand to answer all manner of questions, or to advise on bus timetables then cook gorgeous meals, David's got your back.


His son, Ewan, handles the bar most nights and is on hand to help when you have questions or, like me towards the end of our stay, need boxes to pack all the bottles you've bought up for the courier to take home for you. Making up the numbers is a lovely dog and a three-legged cat who loves to be petted in the bar as you relax with a few drams.
Speaking of a few drams, the bar at the Ballygrant Inn has over four hundred single malt whiskies in their collection for you to try, at very reasonable prices, whether you are staying with them or not. The menu itself kept me busy for hours during our six days stay reading through hunting what I had not tried before, occasionally going back to one that had really piqued my interest.
The collection itself boasted a number of incredibly rare bottlings, mostly from Islay, including Port Ellen's limited releases and virtually every Ardbeg released (including the utterly sublime Ardbeg Galileo
, a must try) wth prices ranging from £5.90 to £99.00 per dram. Over the course of my stay there, including samples at distilleries, I tried a total of 77 drams (rude not to) clocking in a rather sizeable bar tab. Worth every penny.
The rooms themselves are just what you need from Islay Accommodation; clean, clear of needless clutter, views of the hills opposite, very large bed, Sky TV, en suite, storage space and even a heated towel rail. Just watch out for how hot the hot water tap gets, wow. 
On the food side of things, there are lots of great Islay options for you.
Breakfast is served any time you like it, you just have to inform David or Ewan the night before at what time you'd like to be seated so that David is up and cooking when you drag yourself out of bed. Options range from a Scottish fry up to boiled eggs to smoked salmon and scrambled eggs, all served with warm croissants, toast, cereal, orange juice and a choice of tea or coffee. A great way to start the day.
Worth mentioning that we found it harder to find too many places for lunch aside from the Kilchoman and Ardbeg distilleries as you are mostly away from the towns when on tours or tastings, with most places stopping serving at around 2pm until the dinner service.
After a tough day of walking, being shown round distilleries or sampling the local produce you are going to need a hearty meal.
Cue David's menu of locally sourced, wholesome food that will not leave you disappointed. I was a sucker for the Islay scallops in a creamy Bowmore sauce, David informed us that a full dram goes into each portion and wow does it hit the spot. Accompanied by fresh veg too that tasted like it had just been picked / grown.
Make sure you save space for desert, in my case it was the Ardbeg Blasda
 infused homemade cheesecake with a fresh fruit accompaniment. You can really taste the Ardbeg by the way, not to be missed.
Dinner is served either in the breakfast dining room or the bar dining area, we opted to eat in the bar each time so we were amongst all the happenings of local life and for ease of access to the next dram, and the next.
Top tip: when you first head to the bar, ask to set up a tab for dinners and drinks, saves the hassle of paying each time as you can then conveniently settle up the entire bill at the end of your stay.
Something that does stand the Ballygrant Inn out as fantastic Islay accommodation is the warmth and welcoming nature of the place, nothing is too much trouble, the bar showcases the packaging of some of the whiskies from years gone by, locals pop in and out multiple times a day, there are books if you want to read up on your distilleries or discover more about local nature and a healthy level of banter that makes you feel instantly settled and comfortable in your surroundings.
Ballygrant Inn & Restaurant
Ballygrant
Isle Of Islay
PA45 7QR
Argyll & Bute
Scotland
Tel: 01496 840277
Email: [email protected]